7 Ways to Choose the Right Face Cleanser: Tips for all skin type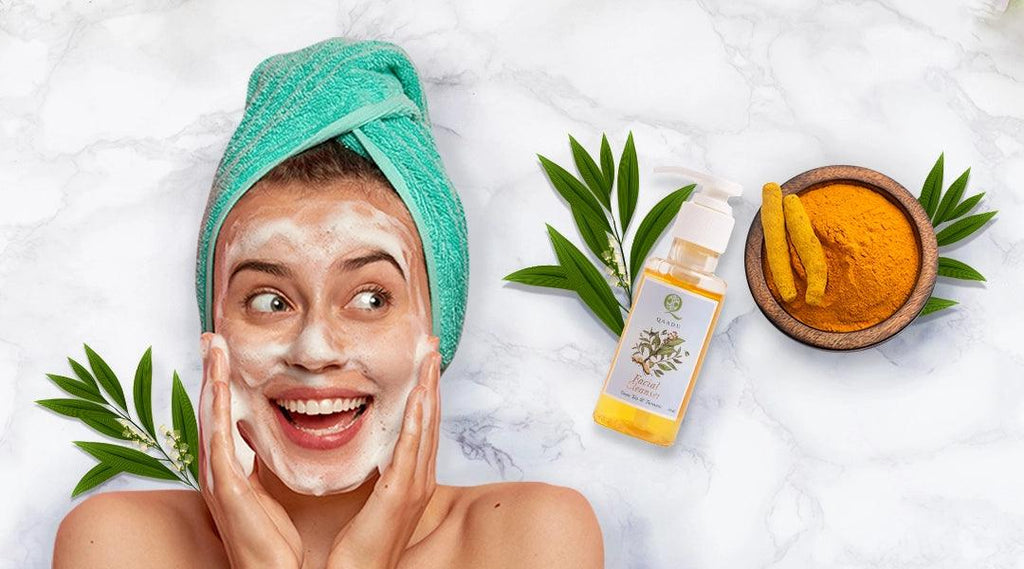 Every day, our faces are exposed to pollution, filth, smoke, pollen, and other contaminants. Just as we are tired at the end of the day, so is our skin. To be vibrant, bright, and well-nourished, it requires daily attention. A daily routine, beginning with face wash, is the key to bright, natural skin.
Skin that is smooth, vivid, and free of problems is something that everyone wishes for. However, the majority of us suffer from acne, pigmentation, spots, and clogged pores. This is where skincare comes in. Cleansing is the first step in any skincare routine .When you clean your face, dirt, dead skin cells, makeup, and anything else that could clog pores or dull your complexion are all eliminated. Depending on the type of cleanser you use, it may also help address certain skin problems including acne, dark spots, and pigmentation.
Your skin will be cleansed and hydrated after using a face wash. Other skincare treatment processes can be carried out on clean skin. It's crucial to keep the face clean so that pores don't get clogged and facial therapy solutions can reach all layers of the skin. Choose the proper face cleanser for your skin type by identifying it below.
Dry Skin
Because the protective skin barrier is disrupted, dry skin is characterised by red, irritated skin that is typically tight. The optimal face cleanser for dry skin, according to some skin experts, is one that is non-foaming and has a milky texture. Hyaluronic acid and aloe vera extract should be included as hydrating components. Cleanse your face twice a day, once upon waking and once before  bed.
Combination skin
If you have a combination skin, you're probably aware that the T-zone, which comprises the forehead and nose, is oily. On the other hand, if the cheeks are parched, use a face cleanser that is transparent, gentle, and gel-like in consistency. You should use a face wash that contains AHAs or BHAs, which are gentle chemical exfoliants. In addition, it should have ceramides and peptides to protect your skin.  You should cleanse your face twice a day, just like you would for dry skin.
Oily Skin
A foamy face cleanser is the optimal face cleanser for oily skin. Some doctors advise using salicylic acid, an AHA, or even Benzoyl Peroxide. Faces with oily skin should be washed twice in the morning and once at night.
How to Choose a Cleanser for Your Skin Type:
Gel Cleansers                                            
BEST FOR: Oily/ Normal/ Acne-Prone Skin/ Combination
Gel formulations have a clear, thick gel consistency and are excellent for deep washing. They unclog clogged pores and remove extra oils without removing the skin's natural oils. 
Strong chemicals that can strip your skin too much. It's possible that a gel cleanser is too harsh for your skin if your face feels tight after using it.
Cream Cleansers
BEST FOR: Sensitive/ Dry/ Aging Skin
Cream cleansers are often a thick, creamy, and moisturising solution (perfect for ageing skin). Because of their thick nature, they're often less foamy and, as a result, shouldn't dry out your skin. Some recipes call for applying to dry skin and wiping away with a cotton ball; in this case, it's best to follow up with a toner to ensure no residue remains. 
Some cream cleansers can be very rich, so look  for labels that say they're non-comedogenic, which means they won't clog pores.
Foam Cleansers
BEST FOR: Acne-Prone Skin/ Oily
Foaming cleansers are effective for cleansing deep into pores and usually come with a pump dispenser. There's some debate over foam cleansers, as some say they're too harsh on your skin. However, foam cleansers are a fantastic alternative for oily-prone skin types; just be sure to completely hydrate your skin afterward, and consider using it only once a day, rather than twice.
Sodium lauryl sulphate (a foaming agent) should be avoided since it can irritate delicate skin.
Milk Cleansers
BEST FOR: Dry/ Normal/ Sensitive/ Aging Skin
These extra-gentle milky formulae are made out of an emulsion of lipids and water, with the fat droplets in the water giving the formula its milky appearance and smooth texture. Cleaning milk does not froth; instead, it dissolves dirt, makeup, and sebum with oils and fats, making it exceptionally hydrating because it does not rob your skin of its natural oils and fats.
If you're wearing a lot of makeup or have just had a workout, you might want to start with a stronger cleanser and then finish with your milk cleanser to make sure you're completely clean.
Oil Cleansers
BEST FOR: Makeup Removal/ Dry/ Sensitive Skin/ Eczema
Oil attracts oil, according to the logic underlying cleansing oils. When you massage an oil cleanser into your skin, the healthy oils bind with the sebum, as well as any makeup oil or debris, and they're all washed away together. An oil cleanser is a gentle approach to eliminate dirt from your skin, and because it doesn't sink in, it won't clog your pores. Cleaning oils will also help to preserve and balance your skin's natural pH, preventing your skin from creating extra oil in response to drying elements in conventional cleansers. One should prefer to begin the cleansing procedure with a cleansing oil, followed by a water-based cleanser that is appropriate for your skin type.
One should keep an eye on Sodium lauryl sulphate, parabens, petrolatum, phthalates (SLS). If you have oily or acne-prone skin, opt for lighter oil formulas or balms that turn into milk before being rinsed off.
Clay Cleansers

BEST FOR: oily and acne-prone skin
If you enjoy clay masks, you'll appreciate a clay cleaner. Clay cleansers, known for their absorbency, purify the skin by removing excess oil and toxins from pores. Clay cleansers are ideal for oily and combo skin, and they're also gentle enough for sensitive skin because they don't contain any harsh acids or scrubs.
Micellar Cleansers

BEST FOR: Sensitive skin
Micellar waters, which originated in France, include "micelles," or microscopic oil molecules suspended in soft water, which attract oil, grime, and makeup. Micellar cleansers are gentle and alcohol-free, making them suitable for all skin types, including sensitive skin.  "Many people are turned off by the gentle formula, but micellar cleansers are highly effective at tightening pores," say some doctors.