9 Body Skin Care Tips For Dry Skin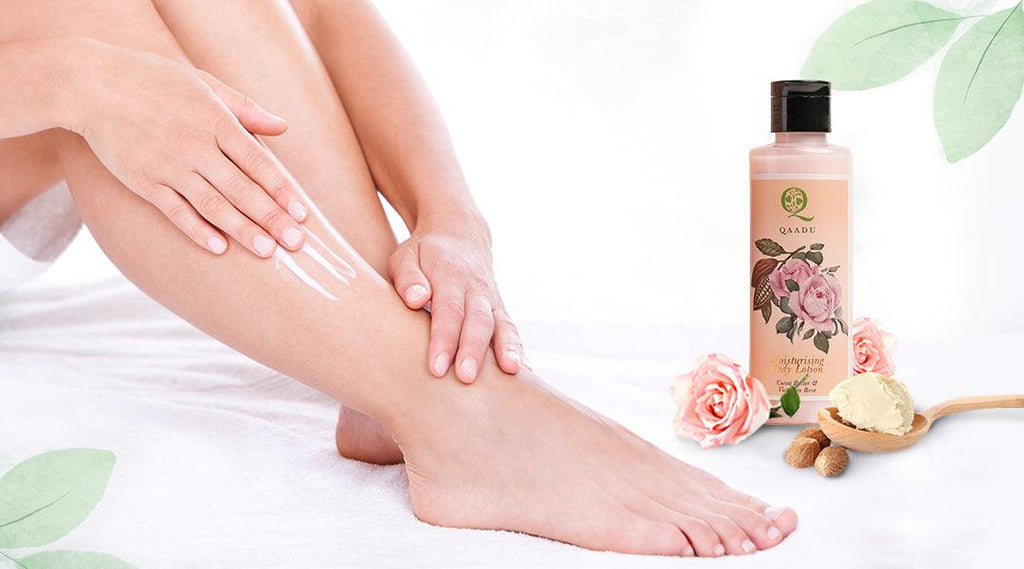 Are you wondering about the reasons for dry skin and how you can fix it to regain that glow and hydration on your face? We've got you covered with the most amazing body skin care tips for dry skin so you can leave your skin feeling healthy, happy and hydrated.
In recent years skincare has taken a new meaning as a way of self-care, strengthening and prepping the skin for the future and feeling good about oneself. It has become a lot about knowing your skin, how it behaves and what it needs. Any good skin care regimen begins with understanding your skin type, and customising your skincare will benefit you greatly and do wonders for your skin.
 'It feels tight, dry, flaky and a little itchy.' If that's what you have to say about your skin, you are a dry skin type. Genetics often play a role in it, or it could simply be a climatic change that makes the skin dry. We know tackling dry skin can feel like a tough grind. And with tons of body care products and routines flooding the market, finding something natural, holistic, and free of chemicals becomes tricky. So, read on to know what's just right for your dry skin.
Body Care Tips for Dry Skin
Here, we give you nine body skincare tips with recommendations on a few skincare products for dry skin that will work together to uplift and nourish it.
1.
Understand your skin
Skincare begins by understanding your skin and its needs. Knowing your skin can help you craft an effective skin care plan. If your skin looks dull, feels tight or less elastic and always has an absence of moisture, you have dry skin. It could result from a climatic change that strips away essential moisture, leaving skin feeling dry, rough, and slightly worse off. Another cause could be harsh soaps and artificial perfumes, which can disrupt the skin's natural balance and cause it to dry out.
Dry skin asks for hydration and protection. Making small lifestyle changes and following an effective skincare routine can bring changes to your dry skin.
2.
Use a gentle, hydrating cleanser.
Contrary to popular belief, a cleanser plays a crucial role in your skincare kit for maintaining the healthiest appearance and feel of your skin. Use a gentle, non-comedogenic, moisturising cleanser that wouldn't strip the skin of its natural oils if you have dry skin. 
3.
Moisturise, Moisturise, Moisturise!
 A million times yes for this step. Moisturisation is crucially essential for dry skin. It not only helps in recovering from skin damage but also boosts your overall skin health. A body lotion for dry skin should be highly hydrating while also restoring skin elasticity.
A quick tip: Always apply moisturiser on damp skin to allow the lotion to penetrate deeper into the skin and lock in hydration.
4.
Avoid over-exfoliating
While removing the dirt from your skin and unclogging pores by scrubbing seems good, experts suggest that over-exfoliating can make your dry skin a whole lot worse. It can increase irritation and redness and make your skin look dry and flaky.
5.
Adopt skin-friendly bathing practices
Follow a body care routine that does not include long hot showers, loofahs, or soaps that can dry your skin. A hot shower with the wrong soap can remove moisture from your skin and leave it dry. So opt for natural soaps or bath gels that hydrate, retain moisture, and are gentle on the skin.
6. Use sunscreen 
You've found your holy grail – SPF. A good sunscreen protects the skin from sunburn and skin damage. Avoiding sunscreen can result in dry and prematurely aged skin. Make sure you buy the one that's for your skin type 
7.
Use humidifier
A humidifier adds moisture into the atmosphere, which helps dry, irritated skin stay hydrated. But it shouldn't be a replacement for your skincare.
8.
Wear the right fabrics
Your fabric could be an irritant to your dry skin. Yes, you read that correctly. The suitable fabrics can make you feel good and comfortable, while the wrong ones can irritate your skin. Stick to natural fabrics like cotton or silk for dry skin because synthetic fibres can be harsh on the skin and cause rashes, itchiness, and dryness.
9.
Try natural remedies
When it comes to body care, it's a good idea to keep things simple. And there's nothing that can feel better than a recipe from the kitchen working wonders on your skin. 
Quick recipe – DIY an oatmeal honey mask
Combine 2-3 tablespoons of oatmeal in a bowl with the necessary water. Make a paste out of them. Add 2 tbsp raw honey to it and mix well. Apply it to your face and neck and massage gently for a few minutes. Please wait for it to dry before rinsing it away with water. 
Benefits – Oatmeal moisturises and deeply cleanses the skin, while honey has anti-inflammatory properties and soothes dry skin.
Summary
So, to conclude dry skin can be managed by giving your skin extra care and attention and carefully selecting what's just suitable for it. A gentle cleanser that does not dry out the skin, a moisturiser that retains elasticity, and sunscreen should all be a part of your daily dry skin care routine. Keep it simple: choose products that are gentle on your dry skin, such as natural fabrics and mild shower gels, and avoid hot showers, loofahs, and soaps that dry out the skin. Despite the abundance of skin care products available, you can always turn to your kitchen for pure, natural remedies for dry skin.
Enjoy these tips and feel glowy, plumpy and hydrated.