Top Body and Skin Care Products in India: Luxury Soap, Body Lotion & Shower Gel. Explore!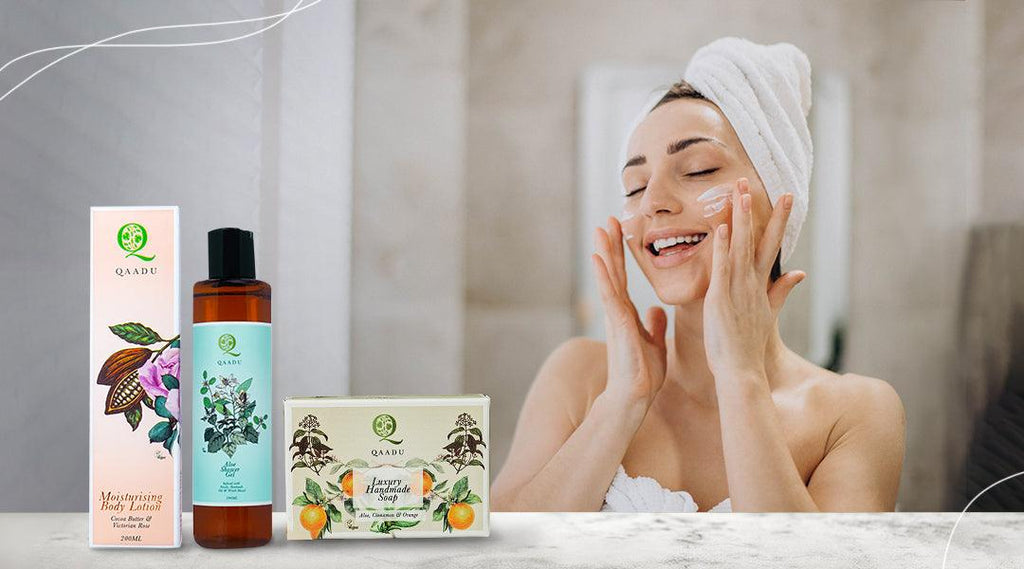 For those who are always on the lookout for the latest and best in body care products, we've got you covered. We love to share with you the details of our favourite brand and what's new in the Indian market.
Knowing that there are numerous companies claiming to offer the best skin care products available in India makes it difficult to choose the ones that might or might not work for your skin type. We are introducing you to some of the top skin care products in this blog that are dependable and organic to help you make the finest choice.
Let's begin by understanding how to choose the best
body care products.
When it comes to choosing skin care products, it is important to consider your skin type. If you have sensitive skin, for example, you will want to avoid products that contain harsh chemicals. Instead, look for products that are designed specifically for sensitive skin. You should also pay attention to the ingredients list on skin care products. Avoid any product that contains parabens, sulphates, or phthalates. These ingredients can be irritating and may cause skin problems.
Why are natural skin care products all the rage?
Natural skin care products are becoming more and more popular for a number of reasons. First, they are gentle on the skin and don't contain harsh chemicals that can cause irritation. Second, they are usually made with ingredients that are beneficial for the skin, such as natural oils and extracts. Finally, natural skin care products are often more affordable than their chemical-based counterparts.
Our favourite natural and best skincare products in India
Qaadu is a truly vegan and an all natural product from India. Qaadu produces the best products with natural and pure components as a wellness and beauty brand. The formulations are based on herbal medicines, and the products are vegan. All of Qaadu's products reflect the company's all-encompassing philosophy of family wellness and personal care.
Why Choose Qaadu?
A distinctive and genuinely green notion drives Qaadu. Ingredients used in the creation of each of its products come from the deepest forests and specifically created herbal gardens. Its  goods are built upon tried-and-true formulae from the past. The thing that the consumers love the most about Qaadu is that they produce visible results. To assure their efficiency and your safety, every herb, root, and extract it utilises goes through a thorough quality control process.
The best body Care Products by Qaadu
Luxury Handmade Soap: Cinnamon, Aloe and Orange
Ideal for all skin types and specially formulated for dull, uneven and rough skin, this skin care product is one of the bestsellers in the market.
Infused with the goodness of Cinnamon, Aloe and Orange, this Luxury Handmade Soap makes bath time a luxurious experience. It cleanses the skin of dirt and pollutants without removing its natural oils, leaving it clean, soft, and smooth. Orange oil brightens and delays the onset of ageing while cinnamon balances and protects skin with its antioxidant capabilities. The soap wakes the senses and boosts the spirit with notes of citrus, freshness, and a dash of cinnamon.
Cinnamon, a well-known source of polyphenols, moisturises the skin, stimulates the synthesis of collagen, and improves the texture and flexibility of the skin. This body care product also contains orange oil, which is high in fatty acids, minerals, and vitamin C. It defends against damage from free radicals, cleans the skin, and regulates excessive sebum. Essential fatty acids, amino acids, and flavonoids included in the soap's neem constituent restore skin, lessen scarring, treat wounds, and manage acne. As a natural skin hydrator, Aloe soothes dry skin, repairs damage, and restores balance. 
Body Lotion: Cocoa Butter and Victorian Rose
Qaadu's hydrating Body Lotion helps restore dry skin all over your body. It will improve hydration and restore your skin's suppleness with a blend of nourishing ingredients like cocoa butter, rice bran oil, and olive oil. While the body lotion's natural ingredients condition and mend chapped, dry skin, leaving it wonderfully smooth, rose oil offers a relaxing and toning effect. The lotion releases a pleasant, rose-floral aroma as you apply it.
The key ingredient of this lotion that works best is cocoa butter, which has vitamin E and essential fatty acids that protect the skin's natural lipid and moisture barrier while also softening the skin. The rose oil contains flavonoids, vitamins B and C, and works as a skin toner, enhances texture, and defends against damage from free radicals. A natural skin hydration agent, aloe vera gel hydrates skin, heals damage, and balances dry skin. Another crucial component is olive oil, which has vital fatty acids and is high in vitamin E. It moisturises skin, cures skin damage, and evens out complexion. The lotion's B vitamin-rich rice bran oil hydrates and protects skin, heals sunburn, keeps skin nourished and protected, and evens out skin tone.
Aloe Shower Gel: Neroli, Patchouli and Witch Hazel
Every morning, this Aloe Shower Gel will give you a revitalising boost. Your body will feel clean, supple, and fresh after using this natural aloe shower gel to wash away dead skin, and pollution. making your skin look smoother and brighter. A calming cream that balances the skin, it improves lymphatic drainage, increases circulation, and eliminates impurities.  Infused with neroli, patchouli, and witch hazel, this gel preserves the skin's natural moisture barrier and aids in hydrating the skin. With its blend of fresh aromatics and spices, it deodorises your body and makes you smell good.
Neroli Essential Oil, which has antibacterial, calming, and clarifying qualities, as well as features that reduce inflammation and acne and control sebum production, is one of the great ingredients in this shower gel. The healing qualities of Patchouli essential oil include cellular regeneration stimulation, relief from dry, itchy skin, and irritation relief. This gel also contains Witch Hazel, which is high in antioxidants and has toning and balancing effects. Additionally, it soothes sensitive and injured skin and returns the skin's normal sebum balance. 
The aloe vera extract in the shower gel functions as a natural skin hydrator by moisturising skin, repairing damage, and restoring balance to dry skin. 
Antioxidants and vital minerals included in saffron extract shield skin from UV rays, treat skin inflammation, and brighten the complexion. 
Unknown facts about commercial skin care products 
Daily usage cosmetics and personal care products  contain a variety of substances that health activists believe may be linked to a number of health issues. 
A baffling array of multi-syllabic chemicals may be seen on any lotion or shampoo container, as anyone who has ever gazed at one would likely agree. We think that the products we use on our bodies are safe, but how much do we actually know about them? 
Advocates for consumer health and a few researchers have long cautioned that at least some of these ingredients are dangerous. Additionally, they are attempting to draw a link between these frequently used products and some unsettling and puzzling disease trends, particularly in women.
With so much uncertainty in the authenticity of these products, it is best to stick to products that are naturally made and that are extracted from the right kind of resources. 
Conclusion
There are many different reasons why switching to natural wellness products can be advantageous to you. 
Natural Skin Care Products are kind to your skin. Since the beginning of time, traditional healers have used natural remedies to treat illnesses and skin conditions. It follows that doing the same is the greatest method to accentuate your natural attractiveness while maintaining your health. 
Many conventional products in the market are quick-acting, but at what cost? You'll eventually start to experience the negative impacts of poisoning your skin every day and night. 
Switching to natural skin care products is the best decision you can make for the wellness of your skin. They don't have any pesticide or fertiliser residue, nor do they have any harsh chemicals.
For more exciting content and product offers, follow our instagram page at @qaadu_official.